M A R I L Y N L E R C E L

is a multimedia producer hailing from Saint Louis, Missouri. She has studied a wide range of art-forms from a young age and aspires to further her talents into a professional career. Marilyn works alongside mentors, Don Goble and Marteana Davidson, as well as fellow students, in her film studies. Lercel serves as Executive Student Producer for LHS TV & Films. Her work has been featured on programs such as HEC-TV's Emmy Award-Winning live show, "Behind the Minds", HEC-TV's live show "Making Meaning of the First Amendment", and AudFest's International Film Festival under the music video category (3rd place finish). During the summer of 2018, Lercel attended the prestigious Washington Journalism and Media Conference (WJMC) at George Mason University as the sole representative for Saint Louis. Lercel works with content creators across the country as a brand ambassador and intern, but especially in Los Angeles, California, where she hopes to one day be able to study and work full-time. She has worked with such dance companies as Dimensions, Hubbard Street in Chicago, and the Big Muddy.
Powered by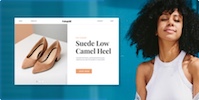 Create your own unique website with customizable templates.